It's been a long summer and I've had a great Road season. I traveled to New York State for Battenkill, New Mexico for the
Tour of Gila
, Iowa for
Snake alley
, and Wisconsin for ToAD and National Championships. Now it's time to switch gears and start preparing for Cyclocross season!
This year, I decided to forgo any late season Road races and attend Geoff Procter's USAC Montana CX Development Camp to prepare for 'Cross. I attended this great camp last year and despite a injury that prevented me from riding, learned many very important skills that greatly contributed to a successful 'Cross season.
Camp is held in Helena, Montana. Instead of driving out there like I did last year, I took a direct flight to Helena. My friend Gavin was on the same flight we arrived at the small airport in Helena on Saturday, the day before Camp started. On Sunday we headed over to Carol College, which is where everyone was housed and fed throughout camp. This was the "first" day of camp but mostly just a chance for everyone to arrive, meet each other, and get settled into their respective dorms. We did however do a classroom session that night where we introduced ourselves and Geoff talked about the plan for Camp.
Our days started out early at 6:30 AM and run out to the college football stadium, were we did bleachers, agility ladders, strength work, stretching, and jump rope for a hour. After showering we headed to breakfast at 8:00 AM. Then it was time to kit up and go for our first ride, which was about two hours long and involved riding to one of two Cyclocross courses in Helena to practice every aspect of of the sport. Barriers, hopping, sand, starts, corners, off cambers, run ups... you name it, we did it. Once we returned to the dormitory to shower and eat lunch, 1:00 to 1:30PM was designated nap time. Believe it or not, this was a welcome rest as by that time of the day everyone was already pretty tired. After nap time we put on our bottle cages, packed our spare tubes, water, and lots of food for the afternoon ride. These rides were from two and half to four hours and went over several mountain passes. They were serenely beautiful but not easy. Finally to wrap up the day, we ate dinner and attended a classroom session where we analyzed videos and talked of 'Cross. Lights were out by Ten 'o clock as we rested and prepared for the next day.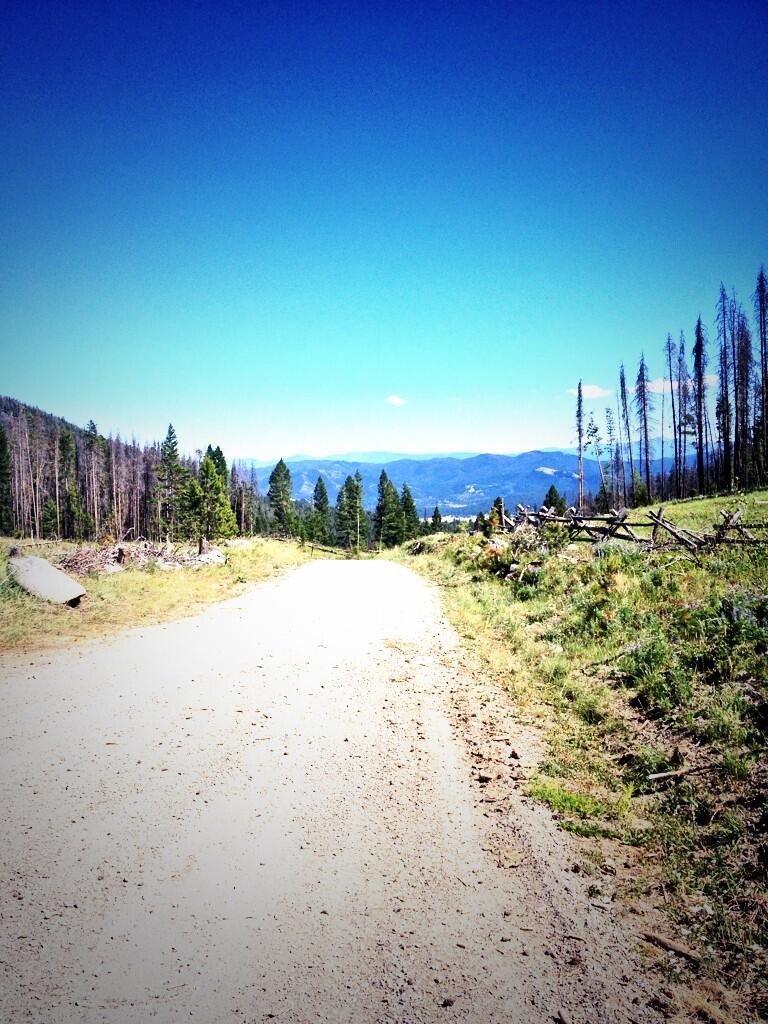 Montana mountain views
There really is no other opportunity like this camp. Very rarely do all the best Cyclocross juniors in the country all gather in one spot during a non-race setting. I feel like we all learned a ton, not just from Geoff- who taught us so much- but also from being around your competition for half a week. The skills session in the mornings at Geoff's personal cross course was super educational. A lot of different techniques were demonstrated and discussed and we were able to watch each other do all of them. However, the classroom sessions were probably the most informative. Through out the Camp we watched everything from motivational videos to technique primers and race coverage. The rides through the gorgeous countryside of Montana were a ton of fun. The gravel riding there is truly phenomenal!
Check out the media coverage of camp;
Tom Robertson's great photo Portfolio
Sam Erickson's AWESOME video
Cyclingnews's article
CXmag's article
Camp was a wonderful experience, big thanks to USA Cycling for funding the camp, Geoff Procter for putting it on,
Dave Fleischhauer and
Scott Herzig for helping coach the camp and ride with us, J
eff Linton and Emmett Purcell
for helping, Tom Robertson for taking lot's of great photo's, and Sam Erickson for making a awesome video of us!
Keep a eye out for my upcoming press release for 'Cross season, which will be posted here in the next couple weeks.